- NEW: Initial youtube support (youtube tab), choose between 360p,720p,1080p in network preferences
- NEW: Added -cache-min option in network preference (very useful for youtube streams)
- NEW: Added -cache-seek-min option in network preference( very useful for youtube streams)
- CHANGE: added gb.web dependancy
- NEW: Added -prefer-ipv4 option in network preference
- NEW: stream address in log window
- CHANGE: max cache value raised to 100MB
- FIX: explicitely ignore any config file (-noconfig all)
- FIX: update shoutcast gave a runtime error
- FIX: disable all video filters for vaapi
- CHANGE: reorganized window to best fit wide screens and netbooks
(vaapi is not natively supported, but at least it will work now if you specify it as a custom video driver).
Some notes about youtube support:
I strongly reccommend you:
-to use a local dns instead of a faraway one (see: avoid opendns) for seeking to work in most of the cases.
-have a large cache for network streams (even 30MB), it will allows you to buffer the stream when you pause.
-have start playback after filling ## set to a very low value to allow the stream to start early
-have minimumseek cache size ## set to a very low value to seek faster
-prefer-ipv4 set to speedup things if you have an ipv4 network.
Hint: Downloading youtube videos is not currently supported yet, but as soon as you are playing one, you can just go to the log window and grab the url.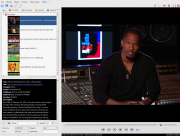 http://kde-apps.org/content/show.php/Xt ... tent=86197
Enjoy!